7th Edition, E-Mail Newsletter ::: Fall 2014
Dear Friends,
I'd like to welcome two new board members to the Women's Center Community. Theresa Mouton, CFO of Wuesthoff Health Systems and Timi Tucker, attorney with Tucker Mitnik. We are excited to have these energetic and dedicated women join our leadership team. We regretfully say goodbye to Bryan Roub as he steps down from the board. We thank him for all his hard work.
We have moved into our new office space at 400 Julia Street in Titusville. We would like to thank Parrish Medical Center, Loyd Contracting, Town and Country Painting, Home Depot, Jon Marmon Flooring, Sherwin Williams, BB&T Bank and the many businesses and individuals throughout North Brevard that made this new facility a reality for us. And a big Thank You to Sharon James for coordinating all of it and doing such a fabulous job on the design layout and decorating!
The Women's Center is looking forward with great anticipation to our rapidly filling calendar of fun filled events for the fall and winter months. For the second time our North and South Guilds will combine their collective talents and will be presenting Dude Looks like a Lady, on October 10! This stellar event will feature 15 gentlemen who will be performing as the women they have always wanted to be! Sheriff Wayne Ivey will be our Master of Ceremonies again this year.
We held our annual Camp Gaia, a summer camp for girls grades 5 – 8. The girls had a wonderful time learning new things, trying novel adventures, and meeting marvelous mentors. I would like to thank our volunteer camp counselors and community volunteers for their dedication to this project. Look inside for more information about what the campers did and learned and how the community became involved!
I would also like to give a big thank you to The Circle of 8 for hosting the Transitions Retreat at Art More Place in Melbourne. Transitions is a retreat for high school graduates stepping into their future. The program was enjoyed by the participants and facilitators as well.
The Women's Center relies on an extensive network of volunteers and supporters from every walk of life to fulfill our mission to lift women up to their potential. Our volunteers and supporters bring joy and energy to our work and our community. Call us if you would like to join our many volunteers and supporters. 321-242-3110.
Thank you all for what you make happen!


Dr Jenny Gessler
---
Board of Directors

Jenny Gessler, Ph.D.,

Executive Director

• Paula Savage,

President

• Joseph Martin,

Vice President


Mischel Ostovich,

Secretary

• Theresa Mouton,

Treasurer

• Carol Ashwell • Jacqueline E. Barker
Jennifer Brady, MD • Dani Clevens • Beverly DeMeyer • Eulan Middlebrooks • Pamela M. Padgett • Rachel Terry • Timi Tucker

---
Upcoming Events!

SAVE THE DATE: October 10th, 2014
The Women's Center North and South Guilds are presenting the 2nd annual
"Dude Looks Like A Lady" in honor of Domestic Violence Awareness Month –
in honor of HER. Our most successful fundraiser to date is back by popular demand,
and will be held at The Cocoa Beach DoubleTree Hotel on Friday, October 10th,
from 6 - 10pm. Once again, Sheriff Wayne Ivey will entertain as Master of Ceremony; so mark your calendars, get your tickets and look out for sponsorship opportunities.
Tickets are Available - Click Here to Buy
DON'T MISS THE EVENT of the YEAR!!!!
Last year's "Dudes"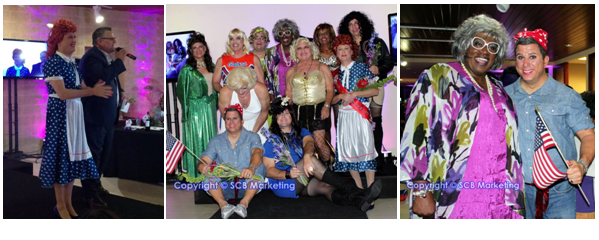 ---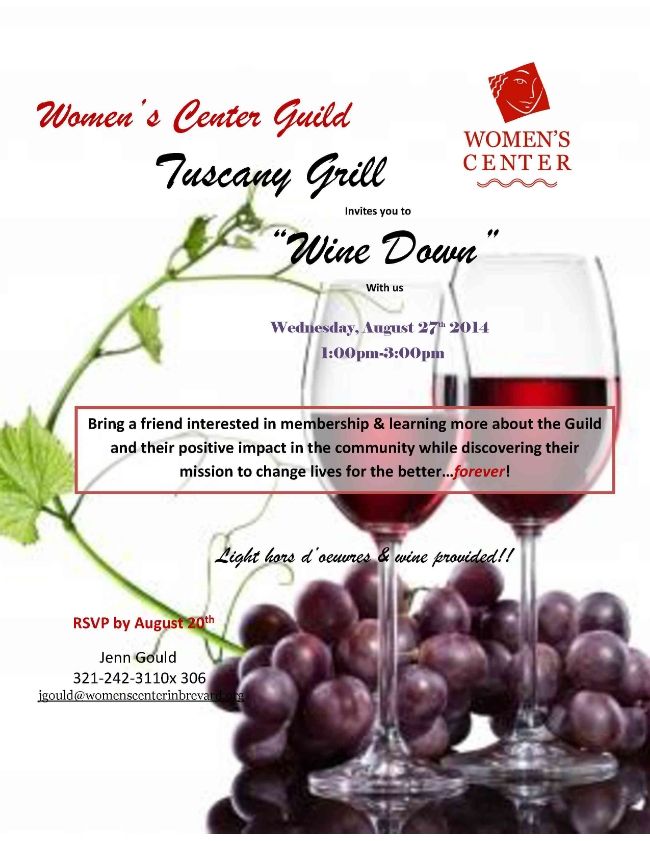 ---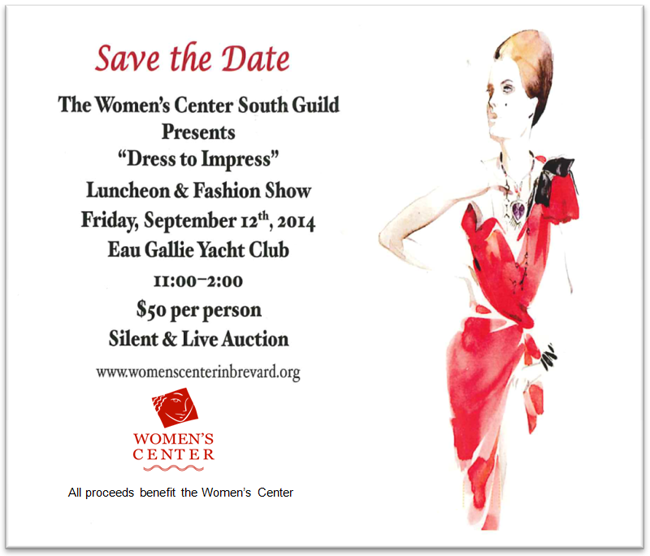 ---
Candace is the kind of woman who touches everyone she meets. To some she is the life of the party, always a smile and laugh. To others, a nurturer, always there to lift up someone in need. Candace spends her time raising five beautiful children, working as a domestic violence/sexual assault victim advocate and attending the University of Central Florida where she is pursuing a degree in social work. Candace was recently diagnosed with a rare and extremely aggressive form of breast cancer. It's our turn to help give back to a woman who has done so much for our community. There are many financial road blocks cancer patients encounter on their journey: excessive co-pays, lost time from work, gas expenses from travelling for treatment, and prosthetic devices (to name just a few).

Your donation will help with financial obstacles relating to Candace's integrated cancer treatments.


Breast cancer awareness guitar raffle tickets $10

Visit www.canceryousuck.com to purchase tickets for The Disco Murder Mystery inner theater event, or to donate directly to the Candace Tate cancer fund.



---
April was Sexual Assault Awareness Month

5th Annual, Walk in My Shoes

The Women's Center is thankful for its partnership with Lauren Book and had an amazing time walking for Lauren's Kids, preventing child abuse and healing survivors!

(Pictured from left to right) Lauren Book, author, Lauren's Kids Founder, and survivor of child sexual abuse; Phil Archer, State Attorney, Florida; Sue Kiley, Director of Programs at Women's Center & Lt. Col. Melissa Krambeck from Patrick Air Force Base

(Pictured from left to right) Women's Center Staff: Sue Kiley, Director of Programs, Jackie Ares, Victim Advocate, Melbourne, Jennifer Guarino, Victim Therapist, Cindy Schroeder, Career Guide, Cynthia Harris, Victim Advocate, Titusville and Shurell Burton, Special Projects & Marketing Coordinator
---
The Women's Center partnered with the Patrick Air force Base victim service program
for their "Sexual Assault Awareness Month event".

A wonderful opportunity to help bring awareness to Sexual Violence whether a civilian or an active military personnel. Thank you Patricia L. Gragg, MS, CFLE, DAFC, Sexual Assault Victim Advocate for bridging the gap between civilians and the military. There Wing Vice Commander provided an informative 1 hour presentation, and then Mr. Jonathan Grove, who runs a Men Against Violence program spoke as well on this topic. Thank you Christine DePalma a volunteer victim advocate for your dedication.

(Pictured from left to right) Women's Center Staff: Jackie Ares, Victim Advocate & Volunteer, Christine DePalma
---
Victim's Advocate Volunteers

BECOME A VICTIM ADVOCATE TODAY!!!

The Women's Center is in dire need of dedicated and compassionate volunteers. Our greatest need right now is for volunteers to assist women at the courthouse who are seeking an injunction for protection.

NO EXPERIENCE IS NECESSARY! We provide full training through our victim services program -both group and individual training is on-going. This is perfect for retirees, part time employees, students (21 and over)... commitment of at least six months is preferred. For additional details please contact Jackie Ares at the Center.

Click here or Call: 321-242-3110 - Ext. 325
---
In Loving Memory of Elsa Amadeo: "El Camino" 400-Mile Walk

"Kindness in words creates confidence. Kindness in thinking creates profoundness. Kindness in giving creates love."
~ Lao-Tzu

Elsa Amadeo volunteered with the Women's Center since 2006 while living in Melbourne. Sadly, Elsa passed away from Parkinson's two years ago, but her daughter Margie still remembers how much her mom enjoyed her time volunteering at the Women's Center. Elsa felt that the Women's Center was an important organization and believed strongly in its mission.

In September-October, Margie will be embarking on a 400-mile walk on the Camino de Santiago in Spain. Margie will be walking in memory of her mother while raising money through donations to benefit the Women's Center.

If you would like to donate to Margie's "Walking the Camino de Santiago" please visit our webpage at www.womenscenterinbrevard.org/camino-de-santiago/.
---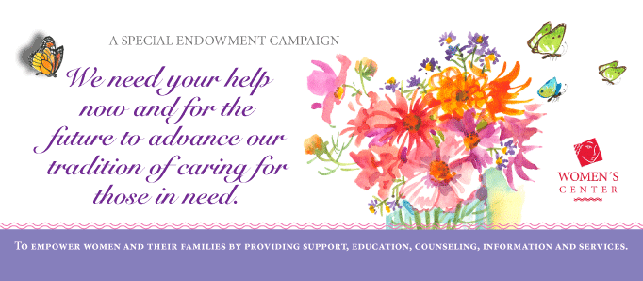 GIVING LEVELS:
Philanthropists $50,000 +
Ambassadors $35,000-$49,999
Change Makers $20,000-$34,999
Leaders $10,000-$19,999
Trendsetters $5,000-$9,999
Trailblazers $1,000-$4,999
---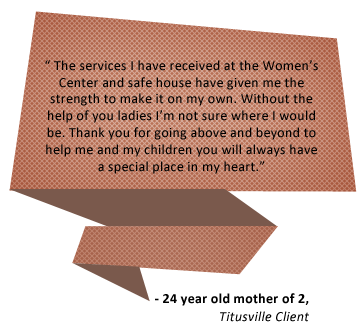 ---
Women's Center Titusville
North Brevard
Titusville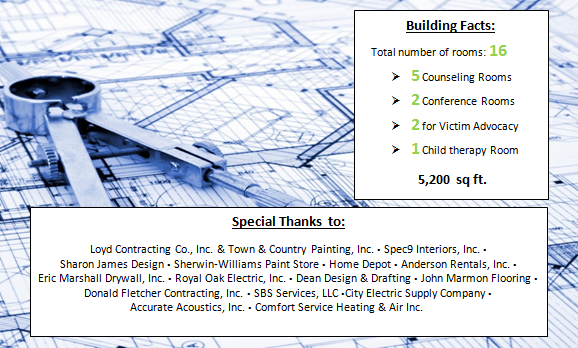 400 Julia Street
WORKSHOPS
Finance Management Held on Thursday every 2 weeks from 1pm-2pm.
Infinite Possibilities *Starting, Thursday August 7th from 2pm-4pm.
consists of 3 weekly sessions
Self Defense on selected Wednesdays from 1pm-3pm.
Career Guidance on selected Mondays from 10am-1pm.
DV 101 Offered the 3rd Friday of every month from 10am-12pm
Volunteer Training Held the 2nd Friday of every month from 9am-4pm
Volunteer Meetings Last Friday of every month from 10am-11:30am.
For more information, dates and times call 321-607-6811 or visit www.womenscenterinbrevard.org
Featuring a Week of Creativity, Fun Field Trips, Hands-On
Activities & Self-Esteem Building!

For Girls entering 5th-6th grade(Week 1) and 7th-8th grade (Week 2)

Camper braiding Freckles at the
Brevard Equestrian Center (Grant)

Camper, Kaitlyn Kershaw, with Volunteer and five-time Camp GAIA extraordinaire, Kate Healy, were making finger knitting scarves at Knitting Closet (Palm Bay)

Holding Council in City of Melbourne's
Council Chambers (Viera)

Youth Program Coordinator, Dr. Angela Shoe
talking to a few campers at the Brevard
Equestrian Center (Grant)
A retreat for recent high school graduates stepping into their future.

The Circle of 8 (Elaina Garvin, Sherri Otcenasek, Roxann Morin, Cindy Buccieri, Jody Stork, Karen McDonald, Lisa Montgomery, and Carol Poynter) had a wonderful 4 days with 5 High School Graduates at the Transitions Retreat at Art More Place in Melbourne. Each day a member of the Circle shared their expertise with the girls: yoga, self defense, budgeting and finance, health and cooking, art expressions, journaling, personality profiles, crocheting and aromatherapy. On the last day the girls were treated to a facial at Space Coast Massage. We began and ended in Circle...It was an enriching and fulfilling 4 days for all.
*NEW PROGRAM*

Journeys
This summer—in collaboration with Club Esteem - The Women's Center launched Journeys, an afterschool program aimed for middle-school aged girls. The program piloted during the entire month of July (Tuesday and Thursday evenings) and will continue for 10 weeks (Tuesdays) during both the fall and spring semesters.
This program will: identify healthy/unhealthy relationships, teach about different types of career options (including STEM), help with managing difficult relationship issues, examining the impact of technology on relationships and dating violence, goal-setting and achievement, recognizing healthy body image and self-esteem building activities, identifying leadership skills, learning about economic independence and finance related life skills and self-defense.
If you, or someone you know, would like to be involved with this exciting new program as a mentor, guest speaker, etc., please contact Dr. Angela Shoe shoe.angela@gmail.com.

---
Additional Youth Programs
Our youth services goal is supporting young people to grow into strong, happy, healthy adults. Metamorphous, provides young girls the information they need when changing into young women. Classes cover physical changes during puberty, confusing emotions, making healthy nutritional choices, and hygiene. Youth Community Action Team (YCAT) is a co-ed group who want to make a difference in their community by providing prevention and education to other youth about dating violence and bullying. Violence Prevention Education is provided in schools to promote prevention activities addressing dating violence, sexual violence, bullying, & healthy relationships.
Call for more info, 321-242-3110 or visit www.womenscenterinbrevard.org
---
The Women's Center is always in need of volunteers. If you are in need of volunteer hours or just looking for ways to give back to the community please contact us at:

DID YOU KNOW...

That the Women's Center has a bilingual Victim Advocate, available to assist clients in both English and Spanish!! Also, the majority of domestic violence brochures are in Spanish as well.

If you are interested in volunteering as a victim advocate please contact the Women's Center at 321-242-3110, all language welcomed!!!

¿Sabía Usted?

Que el Centro de Mujeres tiene defensora de las victimas bilingüe, disponible para ayudar a los clientes, tanto en Inglés y Español!

Además, la mayoría de la violencia doméstica Folletos informativos en español también.

Si usted está interesado en ser voluntario como un defensor de la víctima, por favor póngase en contacto con el Centro de la Mujer, en 321-242-3110, la bienvenida todos los idiomas!!!

Wish List for
Women's Center Clients

Non-perishable foods: Pastas, tomato sauce, cereal, pancake mix, oatmeal, canned meats, macaroni & cheese, rice instant potatoes, canned foods (beans, vegetables & fruit) juices, Household paper goods (bath tissues, dish detergent and laundry detergent).
Diapers (size 3 thru size 6)
Gift Cards to: Walmart, Publix, Winn-Dixie, Target, Payless Shoes, gas cards and phone cards.
Toiletries (Shampoo, conditioner, soap toothpaste & toothbrushes, brushes, combs, deodorants, tampons shaving razors for women.




THANK YOU, Sydney!!!

Sydney, age 8 of Satellite Beach, Fl., wanted to do something a little different this year to celebrate her birthday. Instead of keeping the birthday presents given to her by her family and friends, Sydney decided to donate ALL her birthday gifts to children of families at the Women's Center!! Sydney also was able to donate new business clothes for women and personal/ toiletry items as well.

THANK YOU, Melissa & Kimbery!!!

Melissa & Kimberly, age 13 from Girl Scout Troop 169 in Melbourne for your donation to the Women's Center! They were working hard to earn the "Silver Award". The girls were able to donate over 150 hygiene products. Some of the items donated were toothpaste, shampoo, deodorant, body wash, lotions and razors. They also donated 17 stuff animals to help children feel better. Melissa and Kimberly were about to get the items donated through a drive they held at their church, Hope Lutheran of Melbourne as well as from their families. The reason the girls chose to give to the Women's Center was because they have a friend that was abuse and want to help others in need or in similar situations.





THANK YOU, Hyrum!!!

Hyrum VonNiederhausern, an Eagle Scout candidate who headed up a Day of Service/Eagle Project along with members of the Palm Bay 1st Ward of The Church of Jesus Christ of Latter-day Saints.

Both groups did a great job painting offices and beautifying the landscape & gardening at the center.





THANK YOU!!!

Donna & Suntree United Methodist Church

Brevard Mission Week

...Never too young.




The Women's Center
Furniture & More
Thrift Store

25% OFF
With This Coupon

Expires 10/31/2014

Thank you for supporting us at Women Center Furniture and More. We just finished another great year at the store, and I could not have done it without all my staff and volunteers who put in a large amount of their time and dedication. I would like to say a big thank you; you make coming to work so much fun. I would also like to thank everyone that donates their gently used possessions to help us raise money for our cause. Don't forget to like us on Facebook! We keep our Facebook wall up to date on our weekly specials as well as pictures of newly arrived furniture donations. Remember to tell a friend about us, as there are still people that are not aware of our incredible store!

Adam
Director of Retail

Women Center Furniture & More
2939 West New Haven Ave
West Melbourne, FL 32904
321-951-1336

'Like' Us on Facebook

Thanks For Your Support




Located in the heart of Cocoa, BB's Resale Store, LLC help direct women in need to either the Women's Centers North and/or South Brevard location, where they can receive further assist to achieve safe, healthy and self-sufficient lives.

---




Duron Smith A/C & Heat, Inc is a state licensed Air Conditioning and Heating company serving Brevard County with quality service and installation since 1995. Every month Duron Smith AC, the company behind HVAC with a Heart, sponsors a different charity to give a donation to based on each new system they install. The Women's Center had the fortunate opportunity to be selected for the month of May. Those interested in donating to the charity of the month can donate in two ways. First, Duron Smith AC pledges an amount of money based on each new install they complete. Secondly, you can always donate directly to the charity we sponsor through the button on the top of the website. http://www.hvacwithaheart.com/index.html

---

---

Dating violence happens when one partner in a relationship abuses the other. Dating violence is about power and control and the types of abuse may include verbal and emotional abuse, physical abuse and sexual abuse.

Examples of emotional abuse include isolating a partner from their friends and family, intimidation and controlling how a partner dresses or acts. Verbal abuse such as name calling and threats and harassment using technology. Physical abuse can include punching kicking, shaking, slapping, choking and any type of physical assault. Sexual abuse is rape or any kind of sexual touching, unwanted sexual comments, advances or contact.

Recognizing the red flags and warning signs of a dating violence relationship is the first step to leaving an unhealthy relationship. Remember, the sooner you get out of the relationship the easier it is to get out before violence escalates.

1 in 3 adolescents in the U.S. is a victim of physical, emotional sexual or verbal abuse from a dating partner
A quarter of high school girls have been victims of physical or sexual abuse
Nearly 1.5 million high school students nationwide experience physical abuse from a dating partner in a single year

According to loveisrespect.org

Support Groups,
Classes, and Workshops

Adalante
Viernes, 2:00 p.m.-3:30 pm.
El Women's Center estara ofreciendo un grupo de apoyo gratis para mujeres hispanas. Se discutiran temas de interes, incluyendo relaciones saludables y violencia. Facilitadoras: Jacqueline Ares, Victim Advocate.

---

Childhood Sexual Abuse/Incest Survivors Support Group Melbourne
Melbourne Location
Mondays, 5:30-7:00 p.m.
Therapist: Jennifer Guarino, M.A., LMHC, Free. Group will not meet on Sept. 1st
Support group for adult women who have experienced sexual abuse as children. Focus on emotional reactions, resolution of feelings, the effects on everyday life, and on self-respect as a survivor.

---

Domestic Violence
Support Group Melbourne
Mondays, 10-11:30 a.m.
Therapist: Jennifer Guarino, M.A., LMHC, Free. Group will not meet on Sept. 1st
An open support group for women to provide information and understanding of emotional and/or physical abuse by a partner.

---

Domestic Violence
Support Group Titusville
Mondays, 6:00-7:30 p.m.
Therapist: Ruth Mejias, RMHCI, Free.
Group will not meet on Sept. 1st
An open support group for women to provide information and understanding of emotional and/or physical abuse by a partner. Location: Women's Center-Titusville, 400 Julia St. Titusville, Fl, 32796. For more information, call 321.607.6811

---

Clase sobre Violencia Doméstica
Educación sobre las dinámicas de las relaciones de violencia doméstica, el ciclo de violencia, definiciones de abuso, señales de aviso, y plan de seguridad. Se proveerá un certificado. Favor de llamar al 242-3110 para información sobre las fechas y horarios. Gratis. Facilitadora: Jacqueline Ares.

---

Self Defense Class Melbourne
Classes will be held at the Women's Center 9:30-2:00pm in Suite C. Registration is required as space is limited.
Sat., August 23
Sat., September 13
Sat., October 11
Sat., November 8

* Classes FREE for clients receiving on-going services

---

Kool Kids Melbourne
Mondays, 4:00 p.m.-5:00 p.m.
Group Resumes on Aug. 11th
Kool Kids will not meet on Sept. 1st
Therapist: Jennifer Guarino, LMHC, Free. Support group for children ages 6-12 years old who have witnessed or experienced family violence. Telephone intake with parent required before attendance. For
more information, call 321.242.1526

---

Kool Kids Titusville
Mondays, 4:00 p.m.-5:00 p.m.
Group Resumes on Aug. 11th
Kool Kids will not meet on Sept. 1st
Therapist: Tammy Caligiuri, M.A., LMHC, Free. Support group for children ages 6-12 years old who have witnessed or experienced family violence. Telephone intake with parent required before attendance. Location: Women's Center-Titusville, 400 Julia St. Titusville, Fl, 32796. For more information, call 321.607.6811

---

Childbirth Preparation Classes
Melbourne Location
Wednesday (6:30-9 pm-series of 5 classes) Classes on all aspects of labor and birth, including nutrition, pain medication, breast feeding, and stress relief. Classes provided by Brevard Chapter of Florida Outreach. For fee and registration, call Terri Myers 259-5598.

---

Domestic Violence Class
Pre-registration required. Spacing is limited. Classes offered every 2nd, July 11th , Aug. 8th, Sept.12th Oct. 10th , Nov. 14th ; Noon- 1:30pm The location will be provided upon registration. *Free class offered through the victim service program for all Women's Center clients; Provides education about the dynamics of domestic violence relationships, the cycle of violence, definitions of abuse, warning signs, and safety planning. Certificate provided. Facilitator: Jacqueline Ares.
Call to register, 242-3110.

---

Career Directions
Whether you're thinking about a new career or want to advance in your current position, the Career Directions three day workshop offers the personal attention and career advice to help you get there. Covered topics include goal setting, interviewing, resume writing, applications and job search skills, among others. This free workshop is being offered by appointment only, at this time. Facilitator: Cindy Schroeder

---

Budgeting and Credit Repair
Must Have Workshop
for Every Woman.
Melbourne Location
Facilitator: MaryEllen Troilo
Workshops held periodically on
Saturdays from 10am-12pm. For dates, please call - 321-242-3110.
Covers basic budgeting knowledge, how to avoid falling into the maxed out card trap, tips on why budgets fail, how to keep your budget on track, & creating a spending plan. What makes up your score, how to dispute items on your report, & steps to increase your score.

---

Legal Aspects of Divorce & Separation
Melbourne Location
Every 3rd Saturday, 10-12:00 p.m.
Sat., July 19th, 10 am-12:00 p.m.
Sat., Aug.16th, 10 am-12:00 p.m.
Sat., Sept. 20th, 10 am-12:00 p.m.
Sat., Oct. 18th, 10 am-12:00 p.m.
Sat., Nov.15th, 10 am-12:00 p.m.
Cost: $10. An attorney explains the legal rights of parties involved in separation or divorce. Includes fault/ no fault divorce, spousal and child support, property settlement agreements, custody and visitation, distribution of property and retirement benefits.

---

Volunteer Orientation
See website for dates or call. Free. The volunteer orientation is intended to familiarize interested applicants with the Women's Center and volunteer opportunities available. Applications available via download from the Women's Center website.

---

Victim Advocacy Volunteer Training
July 24-25, Sept. 25-26, Nov. 13-14
Two sessions of training to assist victims of domestic violence in filing the petition from the court, and support in the courtroom when attending hearings related to the injunction process. The first day the training will be from 9:30 a.m.-12:30 p.m. and the second day of training 9:30 a.m.-3:00 p.m. Part-time and full-time volunteer positions. Minimum commitment of one 4-hour time slot per week.

Two shifts available at the courthouse:
8 a.m.- 12 p.m. or 1 p.m.-5 p.m. Volunteers can work either shifts.

Melbourne Training Dates:
(must attend both days of training)

July 24th , 9:30 a.m.-12:30 p.m.
July 25th , 9:30 a.m.-3:00 p.m., Free.
OR
Sept 25th , 9:30 a.m.-12:30 p.m.
Sept 26th , 9:30 a.m.-3:00 p.m., Free.
OR
Nov. 13th , 9:30 a.m.-12:30 p.m.
Nov. 14th , 9:30 a.m.-3:00 p.m., Free.

Location: Suite C
Women's Center, Melbourne

Titusville Training Dates:
Dates, Time & Location – TBA, Free.
Call for More Information.
321-607-6811  

---

Words can never explain how thankful we are for all the things the Women's Center has done for us. We thank you bunches.

---

Thank you so much for your kindness and generosity in helping with the huge expense of fixing the car I drive. I can't say enough, thank you!

---

It has been over 5 years since I "graduated" from the Transitional
Housing program. I would not be
where I am today if I didn't connect
with the Women's Center. I will forever
be thankful for the help I received, and I will always remember how the
Women's Center changed my life!






This Space Could Be Yours!

Our E-newsletter reaches over 1700 email addresses three times a year, and over 8,000 in print once a year!

Please contact us at, 321-242-3110 for more information.



Sometimes, just a little "me time" can do miracles for a woman. That's what Lisa Marie Scozzari and fiance James Paulk thought, and they should know, for they're both in businesses that generate precious free time. She owns Lisa Marie's Creative Hair Design salon/spa; he has a cleaning company, Infinite EcoClean.

The couple wanted to help clients of the Women's Center in the best way they knew how — by pampering them. Pampering is a rare commodity in the lives of many of the clients of this United Way agency that helps women in crisis and transition.

Paulk and Scozzari approached Women's Center development coordinator Jenn Gould with an inspired suggestion. Their idea for "Extreme Makeover: Home, Body & Mind" would pamper Women's Center clients with a day at Scozzari's Eau Gallie salon while Paulk and his team went in to leave the clients' homes sparkling clean.

Gould anticipates that these self-esteem-building events will become a regular feature at the Women's Center."We're calling it Cinderella Day, currently clients are being selected every other month but we hope they take place every other month," she said.

The fun didn't stop after the salon, Photographer, Gaye Moore-Lewis with Pix 4 Da Girls Photography arranged a photo shoot for the deserving pair alongside the Indian Atlantic River, providing them with framed memories for years to come!

---





Making Women Beautiful: Inside & Out




Euphoria Day Spa and Salon in Suntree's stylist, Chris V. has selected us, the Women's Center to participate in an exciting opportunity. Chris came to us via Paula Savage, President of the Board of Directors at the Women's Center, in search of offering one of our deserving clients a makeover. "I came to Brevard County to rebuild a life for myself", said Stacey. "I felt unwelcomed until I found the Women's Center where I was invited in, with all smiles, by caring, encouraging and motivating women."

Stylist Chris V. has a passion, not only for style and hair but for "making women feel as beautiful as she could possibly feel." Chris took on this project because his mother was a victim of domestic violence but he still wanted women to "be able to look at their selves in the mirror and knowing that he was able to make a difference as an artist."

Photographer, Gaye Moore-Lewis with Pix 4 Da girls Photography was there to capture Stacey's experience from beginning to end & provide her with lasting memories!





---

Program and Services

Victims' Program Services

We provide emergency shelter, victim advocacy, and educational classes on the dynamics of domestic, dating and sexual violence. Advocates support victims by providing assistance in legal matters. Informational resources are distributed throughout the community. Counseling is offered for victims of violence against women.

Self Sufficiency Program

We assist people realize their potential and support them in their journey to self-sufficiency. This program not only provides food and basic needs, but also workshops to enhance Life Skills and Financial Literacy. Our Transitional Housing provides a home for women and their children who are in danger of homelessness. Those living in our transitional housing units receive intensive case management services. Personalized Career Guidance explores career options and individual growth. Our Microloan program helps finance the entrepreneurial dreams of low to middle class women.

Counseling Services Program

The Women's Center offers quality, affordable individual, couples, and family counseling by trained therapists. Crisis Counseling, Personal Growth and Support Groups are available. Specialized treatment for depression, anxiety, trauma, eating disorders, self-injurious behaviors, relationship and communication difficulties, self-esteem, family issues, divorce, grief or loss, anger management, stress, addictions, PTSD, and other issues is available. Victims of domestic or sexual violence are provided counseling at no charge.

Special Funds

Military Fund

Offers funding and services to military personnel and their families. Our programs and services can help to address reunification, post- traumatic stress disorder, survivor's grief, self-blame, guilt, and shame associated with experiences, domestic violence, suicide and sexual assault / sexual harassment.

Yvonne's Gals Helping Hands

In memory of Yvonne Bixby, this fund assists women undergoing breast cancer treatment. Funds are available to pay for personal services such as: housekeeping, transportation, pet care, and personal errands such as grocery shopping and more.

Micro Loan Program

In response to the needs of our clients, the Women's Center started micro loan filing program to support the entrepreneurial plans of low to moderate income clients. This program provides very small loans to start up, newly established, or growing small business concerns. A micro loan can have many different uses including working capital, inventory, supplies, furniture, or equipment; and they are relatively easy to obtain compared to traditional bank loans which are generally not possible for those with poor or obsolete credit.

---

Yvonne's Gals Can Assist Women Undergoing Breast Cancer Treatment

In memory of Yvonne Bixby, assistance is available at the Women's Center to help women undergoing breast cancer treatment. Funds are available to pay for personal services such as: Housekeeping, transportation, pet care, personal errands such as grocery shopping and more.

Breast cancer patients may call 321-242-3110, Ext 301 or stop in at 1425 Aurora Road, Melbourne.

---

Women's Center Partners
Change Makers - Parrish Medical Center • Mrs. Paula Savage Leaders - The Henry Family Foundation
Trendsetter - Ms. Christine Sylvester Trailblazers - Mr. and Mrs. David E. Ashwell • Mr. and Mrs. Richard Baney • Dr. Jennifer H. Brady • Mr. and Mrs. Harry Brandon- Brandon Properties • Brevard Indo-American Medical & Dental Association • Mr. and Mrs. Fayette Brown • M.R. Buckalew • Mr. and Mrs. Scott Burcham • Cape Design Engineering Co • Cmdr. and Mrs. John D. Casko • Mr. and Mrs. Harry Deffebach • Mr. and Mrs. R. Bradley Downey • Mr. and Mrs. Al Dukes • Elaina Friesel Garvin, AAMS • H. G. Crockey and H. H. Peterson Foundation • HotAir Network Group • Indialantic Rotary Club • John T. and Martha A. Hartley Foundation • Mr. and Mrs. David Hallquist • Ms. Christine Lance • Neighbors of Suntree • Mr. and Mrs. Rikki Ojeda • Ms. Pamela Padgett • Mr. and Mrs. Paul Phelps • Ambika Ravindran • Roub Family Foundation • Mr. and Mrs. Srikrishna Talluri • Mr. and Mrs. Bill Terry • Mr. and Mrs. Bill Troner • Tucker Mitnik, P.A. • Mrs. Barbara C. Wall, Prudential Sterling Properties • Ms. Martha J. Young
The Women's Center gratefully acknowledges the
following donors for February 2014—June 2014

Catherine B. Alexander • Anonymous Donor • Ascension Council of Catholic Women • Chen Audelo • BB's Resale • Benton House • Victor Boodhoo • Brinker • Sarah Buckley • Peter Burris-Meyer • Deanna Cisar • Elaine Criscione • Lucina A. Currie • Beverly Y. DeMeyer • Megan Dix • Laura J. Doshier • DRS • Rebecca Dukes • James Eller • Clara Ewing • F O E Auxiliary NO Socail Fund • First Presbyterian Church of Palm Bay • Friendship Fellowship at Pineda • Joan M. Gast • Pam Gatto • S. L. Del Guercio • Rhiannon W. Haga • Rebecca Henry • Gloria A. Inserillo • Sharon L. James • Jess Parrish Medical Foundation, Inc. • La Femmes Cabane Locale 1621• Majel Legters • Leisure Living Social Club • Linda Linogon • Melissa Lugo • Patricia Manning • Mary Ann McClain • Jean W. McDaniel • Lizzie McFadden• Ann Mclaughlin • Cynthia H. Michaud • Allison Nevin • North Brevard County Retired Teachers • Carolyn Powell • Patricia D. Pruitt • David J. Rice• Rose Roach • Sherely Russell • Michele Scanlon • Shanti Rao LLC • Aurea Stoll • N. Christine Sylvester • Rachel Terry • Trade Show Specialists Inc. • Truist • Unitarian Universalist Church of Brevard • Carol Vayne • Johanna L. Waterhouse • Cathy Weiss • Gale Widerman • Cynthia Williams • Wines For Humanity • Amanda L. Zuber Catherine F. Ziebell


Women's Center: South Brevard •
1425 Aurora, Rd • Melbourne, FL 32935 • 321-242-3110


Women's Center: North Brevard
400 Julia Street • Titusville, FL 32796 •321-607-6811


Furniture & More Store
2939 W New Haven Ave • West Melbourne, FL 32904 • 321-951-1336


24-Hour HOTLINE • 321-607-6809