Camino De Santiago:
In Loving Memory of Elsa Amadeo: "El Camino" 400-Mile Walk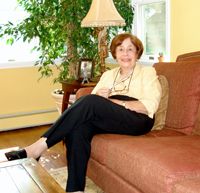 Elsa Amadeo volunteered with the Women's Center since 2006 while living in Melbourne. Sadly, Elsa passed away from Parkinson's two years ago, but her daughter Margie still remembers how much her mom enjoyed her time volunteering at the Women's Center. Elsa felt that the Women's Center was an important organization and believed strongly in its mission.
In September-October, Margie will be embarking on a 400-mile walk on the Camino de Santiago in Spain. Margie will be walking in memory of her mother while raising money through donations to benefit the Women's Center.
If you would like to donate to Margie's "Walking the Camino de Santiago" please fill out the form below. Thank you for your support!
"Kindness in words creates confidence. Kindness in thinking creates profoundness. Kindness in giving creates love."
~ Lao-Tzu